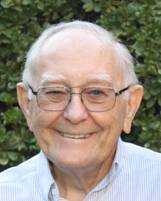 Harvey Hawkins, 85, of Houston, and father of Dr. Gene Hawkins, passed away peacefully on January 10, 2014 after a short battle with lung cancer. Harvey was born on Christmas Day 1928 in Little Rock, Arkansas. He received a BS degree in Civil Engineering from the University of Arkansas and a certificate from the Yale University Bureau of Highway Traffic.
He began his career as a traffic engineer with the City of Houston in 1955. He also worked for Turner Collie and Braden, Inc. before returning to the City of Houston as Assistant Director of Traffic & Transportation, from which he retired in 1995. He was a registered professional engineer in three states.
He married Mary Anne Pinckney on April 10, 1954 and he was devoted to her through almost 60 years of marriage. On Christmas Day, the entire family celebrated Christmas, his 85th birthday, and an early celebration of their 60th anniversary. Harvey was a long-time member of Bethany Christian Church and the Institute of Transportation Engineers. He will be remembered as a true Southern gentleman who lived a life of absolute integrity.
Harvey was preceded in death by his parents, Luther and Vera Hawkins, and his brother Luther "Bill" Hawkins, Jr. Survivors include his wife, Mary Anne, son and daughter-in-law Gene and Kathe Hawkins, daughter and son-in-law Cindy and Robert Moore, two grandchildren Hannah and Thomas Hawkins, cousins, and many friends and other family.
A memorial service will be held at 1:00 pm on January 18 at Bethany Christian Church, 3223 Westheimer, Houston, TX with a reception afterwards. In lieu of gifts, the family requests that memorial donations be made to Bethany Christian Church, 3223 Westheimer, Houston, TX 77098 or Houston Hospice, 1905 Holcombe Blvd, Houston, TX 77030.