Highway Products Group Reception and Exhibits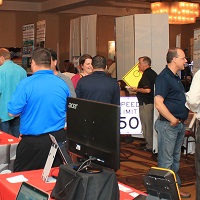 Kick things off on Wednesday evening by visiting with your colleagues at the Highway Products Group reception and exhibits. Take a look at the latest innovations in signal equipment, pavement markings, signing, lighting, and much, much more. Exhibits will also be open Thursday morning until noon. Check out the
list of exhibitors
currently registered for the meeting. Vendors interested in exhibiting their products should go
here
for more information.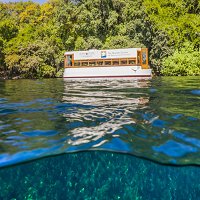 On the banks of beautiful Spring Lake, join us for an evening at the
Meadows Center
for good food, cold drinks, scenic views, and lots of fun! At the event, you can enjoy a glass-bottom boat tour and explore the underwater world of Spring Lake. Boats will be running until 7:30 pm. Also, connect personally with live animals and interactive exhibits in
Discovery Hall
which features a 1,000 gallon aquarium, endangered species exhibits, a video wall, and interactive exhibits fun for all ages!
Shuttle bus service to and from the hotel to the Meadows Center will be provided until 9:00 pm in the evening. Buses will depart the hotel beginning at 5:30 pm.
Thursday Late-Night Social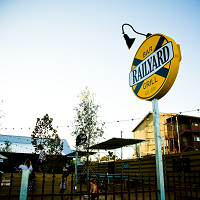 Once the sun sets, things really heat up in San Marcos. Downtown San Marcos includes a tapestry of lively pubs and restaurants. After the Thursday Night Social, join the Young Members group for a lively evening in Downtown San Marcos at the
Railyard Bar and Grill
. The Railyard includes a beer garden, free pool tables, darts, ping pong, washers, horseshoes, and large-screen TVs. The patio has been reserved for TexITE members. This evening event will begin at 9:00 pm. All meeting attendees and guests are welcome. Transportation will be provided from the Railyard to the Embassy Suites Hotel on the hour. The last bus will depart the Railyard at 12 am.
New and Younger Members Meet and Greet with TexITE Leadership
Are you interested in becoming more involved in TexITE or your local Section of ITE? Would you like to meet your current TexITE District Officers? Join us Thursday morning for a meet and greet with TexITE leaders between 8:00 and 9:00am. This informal gathering will be held in the boardroom next to the registration desk. You will be able to grab some breakfast in the exhibit hall before or after mingling with the leadership. New and younger members who attend will be entered in a drawing for a door prize to be awarded at the Kickoff Luncheon.
Come and hear about ways you can get involved in TexITE and offer any suggestions you might have. The different committee chairs will be on hand to explain how each committee contributes to TexITE and will offer opportunities for you to sign up for. Meet your 2017 TexITE Officers and share your ideas for increasing younger member involvement in the statewide TexITE organization. Section leaders will also be on hand to hear suggestions and offer areas where you could get involved at the local level. We look forward to talking with you!
Fishing Tournament at Calaveras Lake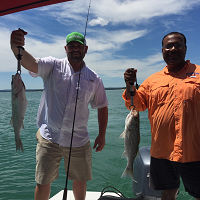 Want to catch a big fish? Join us for this fun networking event on the waters of Calaveras Lake. We can't guarantee that you will catch a fish. But, we can guarantee that you will have a lot fun with your colleagues. The event starts early in the morning. Transportation will be provide from the Embassy Suites to the lake. Buses will begin loading at 5 am and depart by 5:20 am. Register early. Don't delay. Fishing participants will be limited to 20 attendees. Cost is $75 per person.
Kayak Tour on the San Marcos River
Want to discover the San Marcos River up-close and personal? Join us for a kayaking tour of the San Marcos River. The tour will be an educational tour of the San Marcos River and its ecosystem. The San Marcos River is a gentle river ride. But, beginner white-water rapids are available if you want to try! Buses will begin loading at 12:45 pm at the hotel. Buses will return at 4 pm. Cost is $40 per person.
Texas Hold 'Em Tournament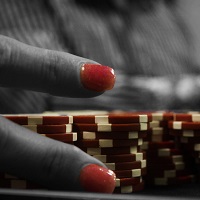 Please join us for a Texas Hold 'Em poker tournament on Wednesday evening following the Highway Products Group reception. Join in the game for fun and prizes. No experience necessary. There is no cost to join this friendly tournament, which starts shortly after 8:00pm. Snacks and drinks will be available.