Highway Products Group Reception and Exhibits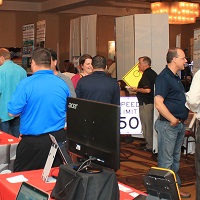 Kick things off on Wednesday evening by visiting with your colleagues at the Highway Products Group reception and exhibits. Take a look at the latest innovations in signal equipment, pavement markings, signing, lighting, and much, much more. Exhibits will also be open Thursday morning until noon. Check out the
list of exhibitors
currently registered for the meeting. Vendors interested in exhibiting their products should go
here
for more information.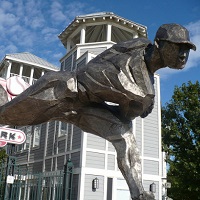 The Frisco LAC is excited to showcase one of the many sports venues in Frisco. We'll be attending a
RoughRiders
Baseball Game at
Dr Pepper Ballpark
, which is located right across the street from the hotel. The Frisco RoughRiders are the Double-A affiliate of the Texas Rangers and will be playing the Corpus Christi Hooks Thursday night. We have reserved the Diamond Deck (the party deck in left field) where our members can enjoy a barbeque buffet and watch the game from tables or private seating areas. (We thought it would still be a little too cold in April to rent the lazy river that now runs along right field.)
The ballpark gates open at 6:00pm and the game starts at 7:05pm. Simply walk across Avenue of the Stars from the hotel to the ballpark when you are ready to join us. Food and drinks will be served between 6:00pm and 8:30pm. The game should last until 9:30 or 10:00pm.
Thursday Late-Night Social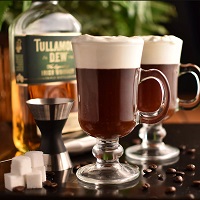 After the baseball game, the Younger Members will be hosting a Late-Night Social at the
Irish Rover Pub
where you can enjoy a large selection of beer, late night snacks, and bar games (pool, darts, golden tee, foosball, etc.). The pub is located within walking distance of the hotel and ballpark. Head a few blocks east to
8250 Gaylord Parkway
.
Whether you leave as soon as the food runs out at the ballpark or wait until the final inning of the game, come over and join the Younger Members at the pub starting as early as 9:00pm. All meeting attendees and guests are welcome. No transportation will be provided.
New and Younger Members Meet and Greet with TexITE Leadership
Are you interested in becoming more involved in TexITE or your local Section of ITE? Would you like to meet your current TexITE District Officers? Join us Thursday morning for a meet and greet with TexITE leaders between 8:00 and 9:00am. This informal gathering will be held across the hall from the vendors' exhibits so you can grab a bit of breakfast before or after mingling with the leadership. New and younger members who attend will be entered in a drawing for a door prize to be awarded at the Kickoff Luncheon.
Come and hear about ways you can get involved in TexITE and offer any suggestions you might have. The different committee chairs will be on hand to explain how each committee contributes to TexITE and will offer opportunities for you to sign up for. Meet your 2017 TexITE Officers and share your ideas for increasing younger member involvement in the statewide TexITE organization. Section leaders will also be on hand to hear suggestions and offer areas where you could get involved at the local level. We look forward to talking with you!
Indoor Skydiving and Go-Kart Racing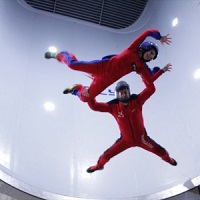 Want to do a little skydiving and go-kart racing before lunch? Join us Wednesday morning for a session of skydiving at
IFly Indoor Skydiving
followed by a session of indoor go-kart racing at
Pole Position Raceway
. If you want to just watch the fun, you can sign up to be a spectator for a smaller fee. Lunch will be provided for registrants and spectators, as well as some free video game play and trophies.
The first bus leaves the hotel at 8:45am and all skydivers must be on board. Latecomers and spectators can catch another bus from the hotel at 9:45am. Skydivers will attend a training session and then take turns, experiencing at least two flights. Plus you get to watch everyone else fly! Training starts at 9:30am and flying starts at 10:00am. Click on the following links for more information about Physical Restrictions and What to Expect.
All registered skydivers must fill out a legal waiver online in advance by clicking here. When asked to select your Tunnel, choose "TX-Dallas".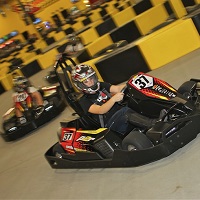 At 10:45am, the bus departs from IFly and heads to Pole Position Raceway where you can race against your fellow members and vendors on an indoor go-kart racing track. We will be racing between 11:00am and 12:00pm during which you can make a pit stop for lunch at any time. Food will be served until 12:20pm at which time everyone will board the bus to return to the hotel.
Cost per person is $42 for skydivers and go-kart racers and $10 for spectators (non-refundable) and includes lunch. If you want to drive yourself there, the address of IFly is 8380 S.H. 121, Frisco (in front of Stonebriar Centre Mall) and the address of Pole Position is 10550 John W. Elliott Drive, Frisco.
Texas Hold 'Em Tournament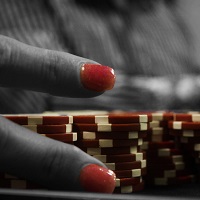 Please join us for a Texas Hold 'Em poker tournament on Wednesday evening following the Highway Products Group reception. Join in the game for fun and prizes. No experience necessary. There is no cost to join this friendly tournament, which starts shortly after 8:00pm. Snacks and drinks will be available.